AUCt not covering at least 80% of AUCinf
[Regulatives / Guidelines]
Dear Friends!
I've got I question concerned to this issue.
Until now I thought that the rule of 80% AUCinf was invented in order to demonstrate that the total duration of sampling is sufficient. But consider a following case:
IR drug with T
1/2
=12-18 hours (according to literature data).
The last sampling time in the protocol was choosen to be 48 hours with a large step before, like: ..8 hours, 12 hours, 24 hours and 48 hours.
For several subjects the PK curves were like this: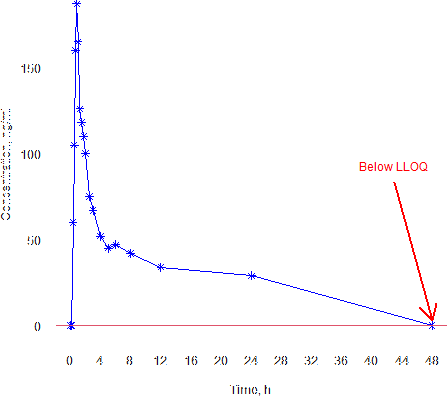 The concentration in the last point was below LLOQ, however AUClast didn't cover 80% of AUCinf.
So I may conclude, although the rule was not followed, the duration of the sampling time was sufficient. In this case the rule may indicate: too large distance between sample time points (48-24=24) that is an error in study planning or too large LLOQ. Am I right in this conclusion? How can regulators interpret this issue?
—
"Being in minority, even a minority of one, did not make you mad"
---
Complete thread: