Three shades of red
[NCA / SHAM]
Hi nobody,
❝ I don't think that the problem with such plots is improper decision making based on such plots. It's that you might get the wrong impression from (a quick look at) the plot which prevents from asking the right questions... So: distraction instead of information.

See what Detlew
wrote about lies
. Now I understand why it is possible in Phoenix/WinNonlin to define two rules to deal with BQLs and/or missings. One for NCA (the real stuff) and another one for plotting.

Couldn't resist: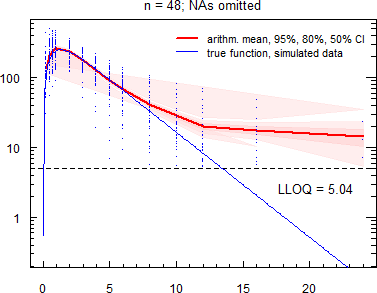 —
Dif-tor heh smusma 

🖖🏼

Довге життя Україна! 


Helmut Schütz


The quality of responses received is directly proportional to the quality of the question asked. 
🚮
Science Quotes
---
Complete thread: